I am so excited about today's tutorial I am skipping the auto post and posting it TODAY!! YAY! I plan on making these for my little one (probably will be abirthday present...)
I have stumbled upon a gem of a blog it's
DollarStoreCrafts.com
See if we can follow this now, today's tutorial was posted on Dollar Store Crafts but originally from
Notes From a Very Red Kitchen
(which by the way, is also a great blog!) and now it's being posted here. Or at least we are posting a link to it here...
Alphabet Bean Bags from old T-shirts and fabric scraps!! AWESOME!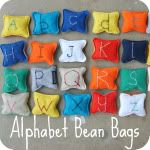 Here it is.
Enjoy!
A little tip here i would like to throw in, if you are like me and have a die-cut machine (I have a Pazzles and LOVE it!) instead of using your sewing machine to make the letters, you can also cut-out the letters in fabric on your machine and use a strong adhesive to put it on the beanbags.